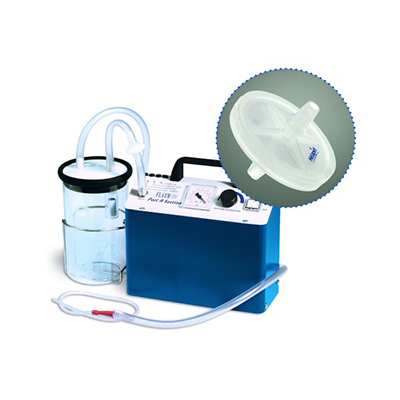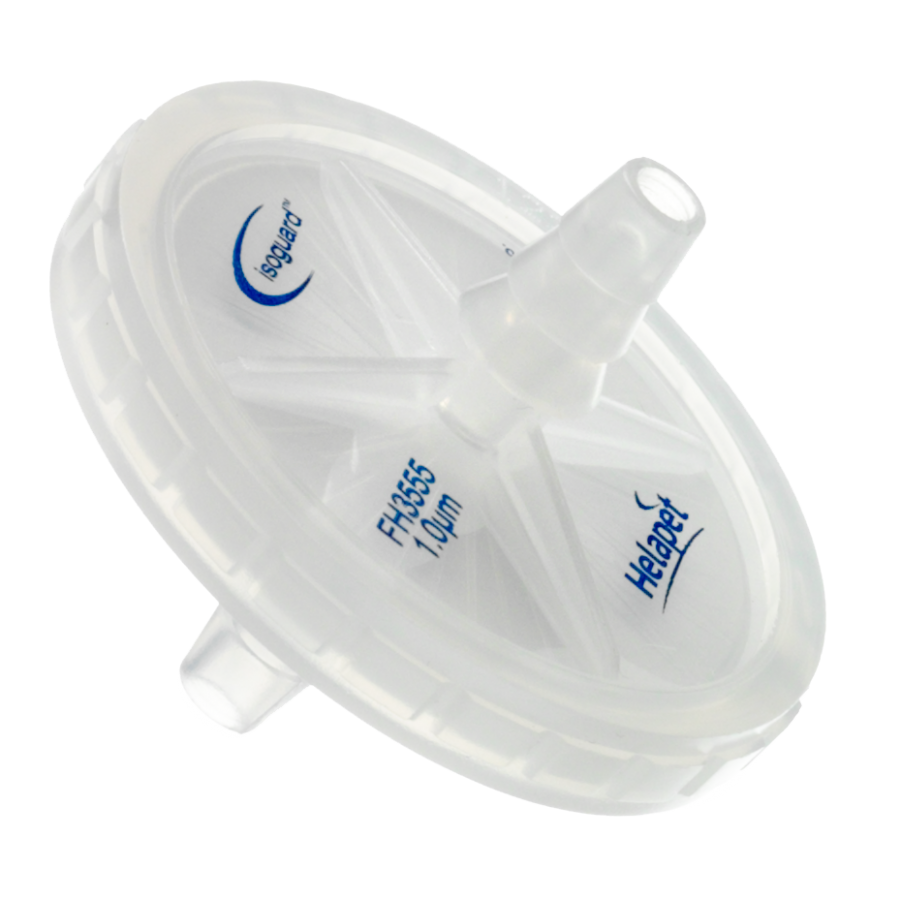 Vacuum Pump Inline Disc Filters
Prevents particulate contamination ensuring protection to the instrument.
Vacuum pump inline filters are designed for vacuum suction devices to prevent contamination of particulates ensuring protection to the instrument.
Our standard vacuum pump disc filters use a 0.45µm hydrophobic PTFE membrane to protect the vacuum pump from moisture within gas. A 1/4″ hose barb inlet and outlet connection allows the filter to secure into standard tubing.
To avoid the risk of bypass, each inline disc filter is ultrasonically welded within FDA approved polypropylene housing and integrity tested to support performance specifications. All Helapet filters are individually etched with lot numbers for traceability.
Customise your own vacuum pump disc filter
Create the ideal inline disc filter to suit your vacuum pump or specialist filtration application using our extensive range of customisable options. Use our Vari-Disk® service to select your filter size, filter media, inlet/outlet connections and bespoke printing to enhance your filter solution.
Features and Benefits
Avoids contamination in critical applications.
Helps protect the instrument from particulate contamination and moisture damage
Easy to apply and remove from any standard tubing
About Helapet Limited
Helapet custom manufacture disposable in-line disc filters, used for the vital protection of sensitive instrumentation from the risk of particulates and micro-contamination. Each filter is produced in an ISO Class 8 rated cleanroom, combining a variety of filter media contained in a circular polymer capsule with a selection of inlet/outlet connectors. Our filters are used for a variety of equipment protection applications. Including gas venting, liquid clarification and particle filtration.
Low linting, clean and able to withstand intense heat and pressure, we also offer Tampo brand printing allowing clients to add whatever information they wish directly onto the filter in a range of colours:
Can be fitted inline onto a variety of devices and instrumentation.
Precisely designed to exact specifications and tolerances.
Compact and lightweight for neat fitting inside equipment.
Cleanroom manufactured to reduce risk of contamination.
Low production volumes at competitive prices.
Complete traceability and certification.
Client services include:
In-process consultancy
We pride ourselves on offering a consultancy based manufacturing service. Working closely with our clients and using CAD software to create the best filter designs.
Sampling
We can produce prototype sample on each new filter product for you to test before proceeding to manufacture.
Sterilisation
Our expert knowledge means we can supply our filters non-sterile or sterilised by Ethylene Oxide (ETO).
Testing and validation
We offer clients a number of test methods to validate our filter performance
Bubble Point / Alcohol,
Housing integrity
Media integrity
Air / Liquid Flow Rate
Peristaltic Pump
Burst / Diffusion
WEP
Subscribe
Subscribe to our newsletter now and stay up-to-date with new products collections, the latest and exclusive offers.