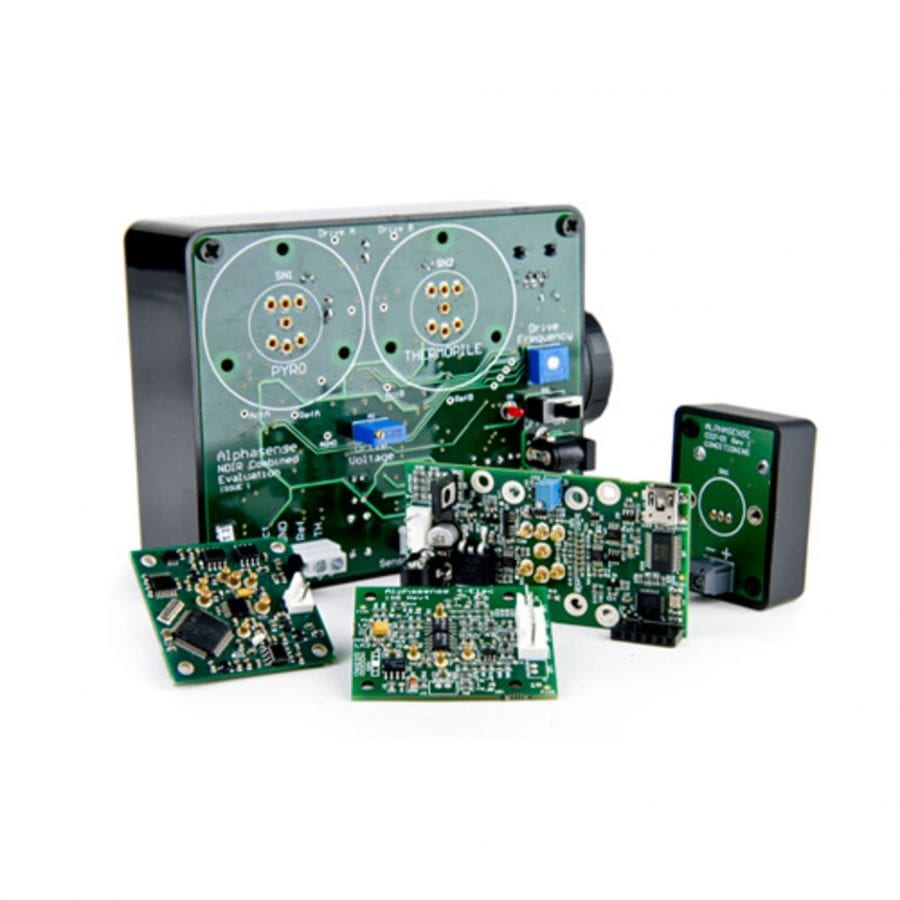 Support Circuits
Alphasense support circuits
Alphasense, established supplier of electrochemical gas sensors, also offers 4-20 transmitter boards to measure toxic gas, carbon dioxide and oxygen concentrations for use in fixed installation systems.
The 4-20mA digital boards can be used with all Alphasense toxic gas sensors whilst the analogue boards are suitable for most Alphasense oxygen sensors and unbiased B series toxic gas sensors. Both boards have the same dimensions, pillar locations, 2-wire current loop connectors and 4-20 mA output.
The 4-20 mA current is linear from 0 ppm (4 mA) to your specified full scale concentration (20 mA). The voltage measured across a resistor in series with the supply current (typically 100 ohms load resistor) will give an accurate measurement of gas concentration.
The boards supplied with sensors are pre-calibrated to customer requirements. The 4-20 mA output signal provides an equivalent performance to that shown in the individual sensor Technical Data Sheets, but scaled to your specific range requirements.
Alphasense NDIR transmitter boards offer both 4-20 mA and USB outputs, scaled to one of four ranges. Concentration range can be recalibrated via PC/ USB port using our proprietary software.
To allow OEMs to distinguish their product from other offerings, the sensor-to-gas aperture design is left for the OEM to execute.
Our people have a long history in all aspects of the gas detection industry that means we understand the issues affecting our customers. The experienced development group at Alphasense provides innovative solutions to specific customer requirements while our manufacturing and test teams deliver the highest-quality, most reliable sensors in the industry.
At Alphasense we are motivated and inspired to help our customers build a world that's safer, cleaner and more energy efficient through sensor technology. We listen to our customers and constantly strive to enhance and improve our processes to ensure we deliver on that vision.
Alphasense invests heavily in state-of-the art automation and process equipment. We use kanban and cellular manufacturing techniques and our independence allows us to manufacture both for both low and high volume customers ensuring they receive the same high quality product on-time. Our manufacturing and design operations comply with ISO9001:2008.
Alphasense is located in the South of England near London Stansted Airport giving easy and direct access for both our domestic and international markets.
Subscribe
Subscribe to our newsletter now and stay up-to-date with new products collections, the latest and exclusive offers.