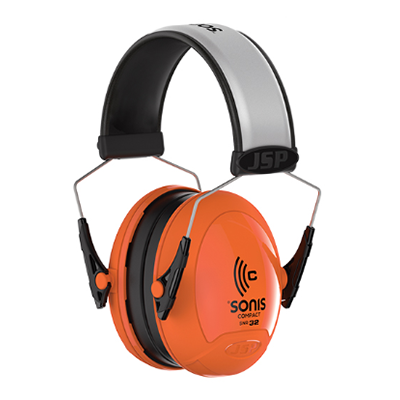 Sonis® Compact Low Profile Extra Visibility Adjustable Ear Defenders 32dB SNR
Sonis® C Adjustable Ear Defenders 32dB SNR
The Sonis® range has been stylishly designed with a traffic light colour code for easy identification. Materials have been chosen for both performance and comfort for extended periods of use.
Features & Benefits
Performance – The Sonis® range of ear defenders have been designed by the JSP R&D team. Working with a leading UK acoustic engineering research facility they have developed an ear defender range that peaks at an unbeaten 37 SNR.
Comfort – The over-moulded headband has a built in comfort area with ventilation. The headband force and the cushion surface area work together to provide optimum cushion pressure and comfort.
Customisation – Sonis® cups can be coloured to meet a corporate identity. They can also be printed with a company logo for improved brand recognition and to discourage theft. MOQ's apply.
Adjustable Steel Arms – To facilitate even distribution of pressure the wearer can tilt and adjust the position of the earcup for optimum comfort and fit.
Hygienic – The headband is manufactured from TPE, making it easy to wipe clean. The sealing rings are easy to replace. Hygiene kits are available for each model.
Extra Visibility – The Sonis® range is available with extra visibility cups and a reflective headband for added low light protection.
SNR 32
Orange – Medium Attenuation Small/Compact Cup 107-112 dB
Sonis® C Adjustable Ear Defenders 32dB SNR can be used for the following activities but not limited to –
Substantial Industrial Noise
Construction & Agricultural Machinery
Road Works
Forestry
Engineering
To find out more about the Sonis® Compact Low Profile Extra Visibility Adjustable Ear Defenders 32dB SNR
With state-of-the-art manufacturing and testing facilities in 7 factories over 3 continents, JSP® is committed to improving occupational safety, health and well-being of people in the workplace worldwide and has been voted European leader in Industrial Head Protection by Frost and Sullivan. Watch the video »
Through large investment into Research and Development and by listening to end-users, JSP® is constantly taking product development to new levels, designing highly innovative award winning PPE which performs to the highest levels even in extreme environments globally.
JSP® appreciates that PPE needs to be comfortable to wear and ensures their products are lightweight, easy to operate, compatible and are more integrated to fit with other PPE. JSP® safety helmets, hearing products, respiratory and eyewear can be customised according to individual specifications using corporate logos and colour schemes, safety messages, personal names and identity systems.
JSP® operates a BSI® Kitemark™ scheme for products, the platinum standard for product quality providing a guarantee that every product that JSP® manufactures is from a batch that has been controlled and tested to ensure it passes the relevant standard. JSP® is the chosen brand for workers as they can be confident that by choosing JSP® PPE they are wearing a Tested, Trusted and Traceable product with full technical backup and support.
The JSP® Hub runs seminars and training sessions to help educate wearers of PPE on the importance of protecting themselves against hazards in the workplace and to show workers the correct usage of PPE and the latest JSP® methodologies designed to help them check they are properly protected.
For help and advice with the selection of your PPE or if you would like to find out more about JSP® please feel free to contact us.
Subscribe
Subscribe to our newsletter now and stay up-to-date with new products collections, the latest and exclusive offers.