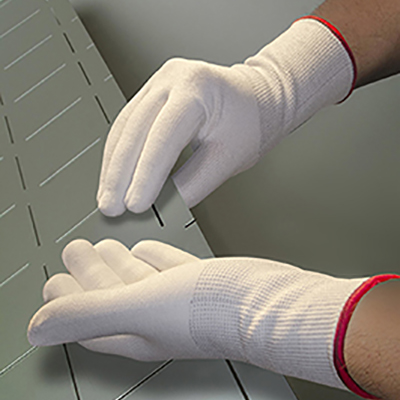 SHOWA DURACoil 546X
Uncoated engineered DURACoil liner reinforced with HPPE.
BENEFITS
Increased cut resistance performance due to engineered DURACoil wrapping technology
Optimal dexterity and tactile feel retained
Maximum comfort when performing delicate tasks due to soft and flexible HPPE properties combined with high multifilament wrapping technique
Seamless knit designed to prevent irritation
Designed for easy movement and continuous wear
A flexible, light glove providing effective protection against cuts
Cost-efficient gloves that can be laundered and re-used
Multi purpose cut glove at a nominal price
A light, elastic low lint glove
Light colour helps indentify soiling and contamination
FEATURES
Multifilament polyester wrapping DURACoil liner reinforced with HPPE
EN 388:2016 Cut Level C
ANSI/ISEA 105-16: A3
Uncoated palm
13-gauge liner
Seamless knit
High performance polyethylene (HPPE)Uncoated engineered DURACoil liner reinforced with HPPE
Find out more about the SHOWA DURACoil 546X
Every day at SHOWA we continue to innovate to provide each wearer with a product that meets expectations. This autonomy, impervious to competitor methods and concepts, is based on constantly surpassing what has been done before, ensuring that everyone enjoys comfort and optimum safety.
SHOWA and their founding philosophy and vision
Mr. Tanaka founded SHOWA in 1954. He embedded key elements in his founding philosophy and vision:
"Corporate strength is gained with our respect for harmony and by taking responsibility for our actions. Also by focusing on being the best person we can possibly be within our individual capabilities.
"Each member of the SHOWA family must have integrity and the empowerment to build trusting relationships within our company and, equally important, with our customers."
This business philosophy inspires mutually prosperous connections with our customers.
Technology brings quality and innovation
Today, SHOWA is renowned for both quality and innovation. Our technology has forever changed our industry, what our hands are capable of, as well as the impact we make on our environment.
We have achieved this by utilising the latest resources in technology. We understand PPE standards, and guarantee our customers nothing less than the highest level of quality hand protection. This belief is one of the reasons that SHOWA's products are well-known, respected and worn by millions of people around the world.
We pioneer the quality, performance and protection to give ordinary hands extraordinary abilities.
Subscribe
Subscribe to our newsletter now and stay up-to-date with new products collections, the latest and exclusive offers.