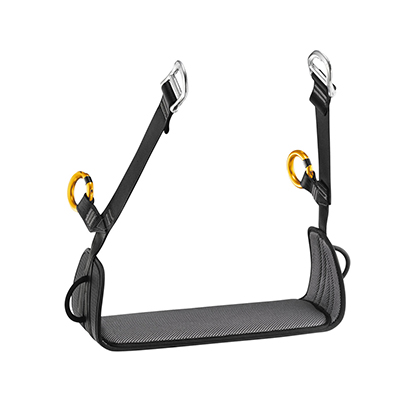 Seat for VOLT® harnesses
Seat for VOLT and VOLT LT harnesses for more comfort in suspension
Seat for VOLT harnesses installs in the two side slots of the harness for increased comfort during prolonged suspension.
Description
Wide seat for working comfortably during suspension
Comes with two RING OPEN connectors that install in the side slots of the VOLT harnesses to distribute the load between the waistbelt and seat
Can be used with a spreader bar to create a central attachment point
Stows easily in the upper position when not in use
Side equipment loops allow easy organization of work tools
Specifications
Certification(s): CE EN 358 (with VOLT harnesses)
Material(s): polyester, nylon, aluminum
Weight: 1045 g
Beginnings
Founder Fernand Petzl's passion was for caving. Expertise in this began to grow with the design and crafting of solutions for ascending, descending, belaying and moving about in the dark. In 1970, the first "Fernand Petzl" brand products were produced in a workshop in Saint-Nazaire-Les-Eymes, Isère, France. Since then, the company that established in 1975, has grown into an international enterprise. All the while preserving its personal feel and the passion that drove Fernand.
Vision
The mission is to create innovative tools and services allowing progress, position and protection in vertical environments.
Products
Vertical
Each Petzl product is designed to meet a precise need found in the real world. Our product development process favours simple, ergonomic and reliable solutions in order to introduce innovative products that reflect the evolution of activities. Vertical products include:
Harnesses, Helmets, Lanyards and energy absorbers. Mobile fall arresters, Connectors, Descenders, Rope clamps, Pulleys, Anchors, Ropes, Packs and accessories Kits.
Lighting
Petzl headlamps have been in constant evolution for over 30 years. New technologies have allowed Petzl to invent and design headlamps that are ever more powerful, more lightweight, and more adapted to the needs of professionals. Lighting products include:
High performance headlamps, Compact durable headlamps, Ultra-compact headlamps, ATEX / HAZLOC headlamps.
Access the inaccessible.
Subscribe
Subscribe to our newsletter now and stay up-to-date with new products collections, the latest and exclusive offers.