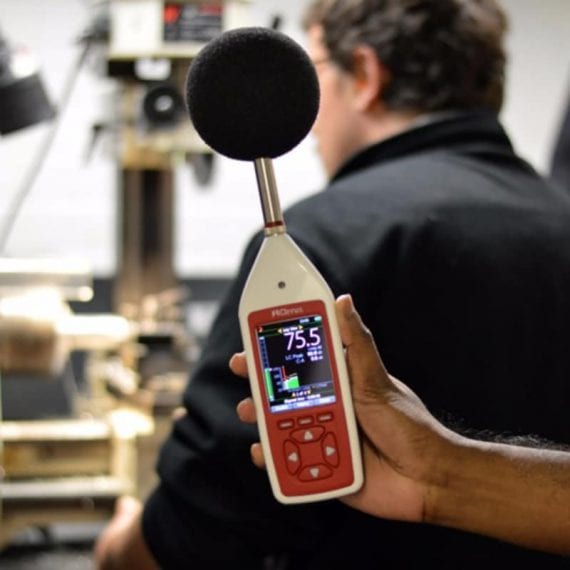 Optimus Yellow Sound Level Meters
The Ideal Solution for Simple Noise Measurements
The Optimus yellow instruments are a range of state-of-the-art sound level meters that have been designed to meet the very latest standards for noise measurement instruments.
It has been purposed-designed for applications where only basic noise data is required, such as Sound Level (SPL) or Maximum Sound Level (Lmax). These applications include fire alarm testing, machinery servicing and noise ordinance enforcement.
See what the Optimus Yellow can do for you. Use the form to contact our Noise Experts today.
Why Choose Optimus Yellow?
Backed by our 15 Year "No Quibble" Warranty for your peace of mind
High Performance to Class 1 or Class 2 Standard
Class 1 & Class 2 to IEC 61672-1:2013
Class 1 & Class 2 to IEC 61672-1:2002
Quick, Simple and easy to operate
High resolution colour OLED display and back-lit keypad
Measure up to 140dB(A) and 143dB(C) Peak with a single 120dB measurement range
Pause & Back Erase as standard
4GB memory with the option of 32GB
Long battery life
Optimus® is a Registered Trademark of Cirrus Research plcNoise Measurement Made Easy
We want to make your job easier, so we designed to Optimus Yellow to offer the highest level of performance without the complicated setup.
Every parameter is measured simultaneously, so you can't choose the wrong function or miss any data
All it takes is 3 button pushes to get the Optimus Yellow to start measuring. Switch On. Calibrate. Start. It's that simple
With it's large OLED display, you can easily view your measurements
Downloading Your Data is Simple
If you need the data logging version of the Optimus Yellow, we'll include our NoiseTools noise analysis software so you can keep a record of your measurements. View the full specifications on the product table below.
You can upgrade this instrument to an Optimus Red or Optimus Green at any time, future-proofing your investment. Contact our Noise Experts today to find out more.
Since 1970, Cirrus' mission has been to make monitoring noise simple. Today, thousands of companies around the world are using our instruments to help them comply with the Standards and Regulations that govern noise. Our innovative approach to product design has helped redefine the way the world looks at noise measurement instruments.
Subscribe
Subscribe to our newsletter now and stay up-to-date with new products collections, the latest and exclusive offers.