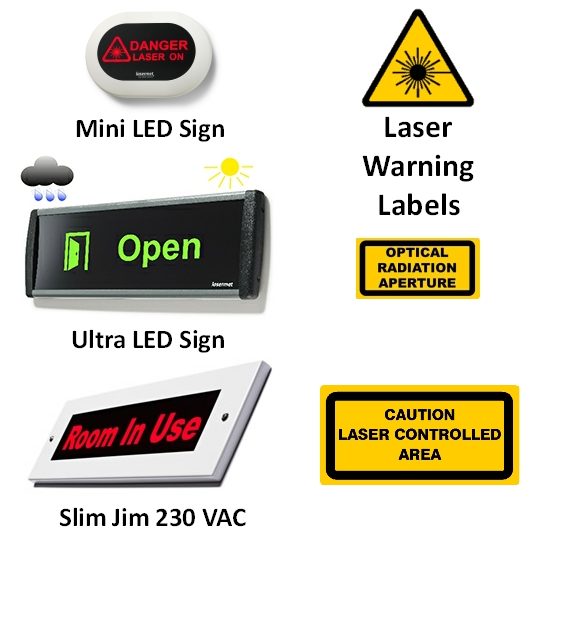 LED Signs and Laser Labels
Smart LED Signs from Lasermet and laser safety compliant labels
Lasermet manufacture their own range of illuminated LED signs suitable for office and commercial buildings.
These professional looking, smart and attractive looking signs are ideal for respected installations.
Already installed worldwide in hundreds of universities, research establishments, offices, commercial buildings, airports, hospitals etc., these signs are ideal.
The mini LED signs and the large Ultra LED signs are all IP20 rated (or IP40 when mounted) and therefore suited for inside use. One of the LED signs – the large Ultra 580 is rated as IP66 which means it is weatherproof and ideal for outside use.
They are all highly efficient and reliable, powered by a 24VDC supply. They can all have the option of having two different colour messages available – switching between a red warning message and a green safe message. Other colours are available for single colour messages.
The Slim Jim sign is a different LED sign which is large but only measures 11mm in depth and can be connected directly to a mains 230VAC switch – in the same way as turning on a light. It is a single message LED sign (usually red) and is used throughout the commercial and industrial world. (DALI compatible options are available).
The labels conform to the laser safety standard and are on the Lasermet shop online.
Lasermet's experience and expertise in laser safety is unparalleled in the UK and beyond, and our services for advice, training, laser system classification, risk assessment and FDA registration, are sought after by an increasing number of companies spanning the entire spectrum of laser applications, from virtual reality LED systems, through rangefinders, telecommunications, medical and laser displays, to high power cutting lasers. The company employs two of the world's acknowledged leading experts in laser safety.
Lasermet was founded in 1987 by Bryan Tozer, chairman of the BSI and European laser safety standards committees, and for 20 years head of laser safety in the UK electricity industry. In 1992 the company was joined by David Wells, the UK delegate to the international medical laser safety committee and for 20 years the head of laser safety at the DoH. Paul Tozer, safety officer to the Entertainment Laser Association joined the company in 1994.
Subscribe
Subscribe to our newsletter now and stay up-to-date with new products collections, the latest and exclusive offers.