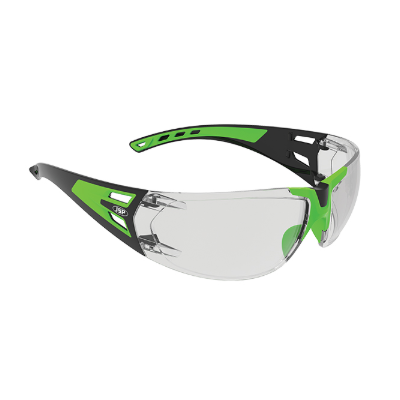 Forceflex™3 Clear Lens Safety Spectacles with Premiershield™ – Green / Black
FLEXIBLE & STRONG
The Forceflex™3 is the latest generation of high performance eyewear made with Forceflex™ technology, it is lighter and more flexible than previous models providing maximum comfort to the wearer and eliminating pressure points.
K&N LENS COATING
Forceflex™3 lens is coated both sides with our PremierShield™ K rated anti-scratch and N rated anti-mist coating.
ZERO DISTORTION LENS
T-AXIS™ optics have been engineered for zero distortion across the entire lens. Intrablock™ lens infusion technology provides 100% UVA, UVB and UVC protection.
FLEXIBLE FORM-FITTING FRAMES
Patented i-form™ frames automatically adjust to any head size and flexible form-fitting arms custom-fit to eliminate pressure points. Soft nose pads provide maximum grip and comfort.
EXCEEDS MILITARY-GRADE BALLISTIC STANDARDS
Forceflex™3 conforms to European EN166 standard which requires them to withstand a 6mm ball-bearing travelling at 160kph. They also exceed the highest ballistic standards, including the US military standard MIL-PRF-31013.
DUST DAM ACCESSORY PACK
Dust dam with elasticated strap provides extra security and an even closer, secure fit even in extreme conditions. The closed cell foam provides comfort whilst resisting unwanted air movement which could carry dust or grit.
To find out more about the Forceflex™3 Clear Lens Safety Spectacles with Premiershield™ - Green / Black
With state-of-the-art manufacturing and testing facilities in 7 factories over 3 continents, JSP® is committed to improving occupational safety, health and well-being of people in the workplace worldwide and has been voted European leader in Industrial Head Protection by Frost and Sullivan. Watch the video »
Through large investment into Research and Development and by listening to end-users, JSP® is constantly taking product development to new levels, designing highly innovative award winning PPE which performs to the highest levels even in extreme environments globally.
JSP® appreciates that PPE needs to be comfortable to wear and ensures their products are lightweight, easy to operate, compatible and are more integrated to fit with other PPE. JSP® safety helmets, hearing products, respiratory and eyewear can be customised according to individual specifications using corporate logos and colour schemes, safety messages, personal names and identity systems.
JSP® operates a BSI® Kitemark™ scheme for products, the platinum standard for product quality providing a guarantee that every product that JSP® manufactures is from a batch that has been controlled and tested to ensure it passes the relevant standard. JSP® is the chosen brand for workers as they can be confident that by choosing JSP® PPE they are wearing a Tested, Trusted and Traceable product with full technical backup and support.
The JSP® Hub runs seminars and training sessions to help educate wearers of PPE on the importance of protecting themselves against hazards in the workplace and to show workers the correct usage of PPE and the latest JSP® methodologies designed to help them check they are properly protected.
For help and advice with the selection of your PPE or if you would like to find out more about JSP® please feel free to contact us.
Subscribe
Subscribe to our newsletter now and stay up-to-date with new products collections, the latest and exclusive offers.