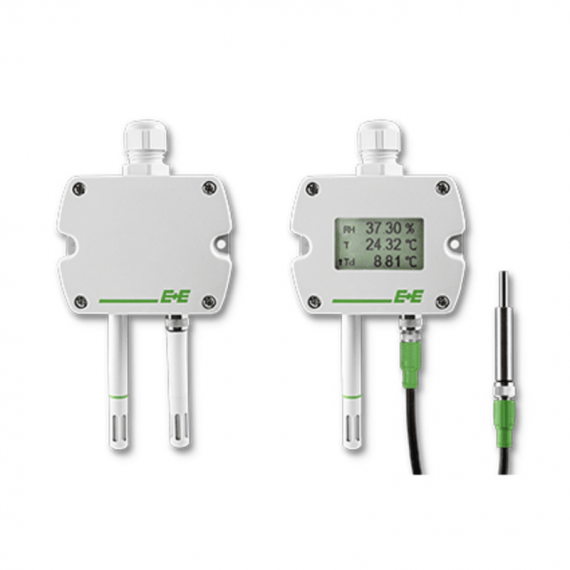 EE211
Humidity and Temperature Transmitter for High-Humidity Applications
The EE211 transmitter is dedicated for accurate humidity and temperature measurement under continuous high-humidity or condensing conditions. It is ideal for climate control in fruit and vegetable storage, in greenhouses, incubators, ripening processes or in mushroom growing.
Heated humidity probe
In order to avoid drift effects due to long-term exposure of the sensing elements to high humidity, the sensor head of the EE211 humidity probe is continuously heated. The permanent over-temperature leads to max. 80 % RH at the sensor. Condensation-related dirt deposits as well as corrosion of the sensor are thereby prevented. Furthermore, the proprietary E+E sensor coating also protects the active sensor surface from contamination and corrosive influences.
The combination of these features results in considerably improved long-term stability and increases both the lifetime and the measuring performance of the sensor.
Precise measurements and calculated values
The EE211 calculates the dew point temperature (Td) based on the relative humidity (RH) and temperature (T) values measured by the heated humidity probe. A separate, interchangeable temperature probe measures the ambient temperature. From Td and T the EE211 calculates back the ambient relative humidity as well as additional physical quantities like absolute humidity, mixing ratio, wet-bulb temperature or specific enthalpy.
Digital and analogue outputs
The measured values are available on the Modbus RTU interface or on two analogue current or voltage outputs. The Modbus RTU parameters and the scaling of the analogue outputs can be set with the free configuration software.
The optional backlit display can show up to three measurands simultaneously.
Sensor technology from E+E Elektronik is used all over the globe in various industries. Key areas of application are HVAC, building automation, industrial process control, automotive, pharmaceutical and food industry, clean rooms, environment and agriculture. All E+E products stand out by high accuracy and excellent long-term performance. A certified quality management system according to ISO 9001 and ISO/TS 16949 ensures highest quality standards.
All E+E transmitters employ sensing elements developed in-house and manufactured in own state of the art clean rooms. Custom-engineered electronics and unequalled calibration know how allow for the highest flexibility in meeting customer specific requirements. This makes E+E Elektronik the ideal partner for OEM applications.
E+E Elektronik operates an EN ISO/IEC 17025 accredited calibration laboratory and has been commissioned by the Austrian Federal Office for Metrology (BEV) to provide the national standards for humidity and air velocity.
The company serves its international customers with its own subsidiaries in Germany, France, Italy, Korea, China and the USA and has a global network of distributors.
Subscribe
Subscribe to our newsletter now and stay up-to-date with new products collections, the latest and exclusive offers.