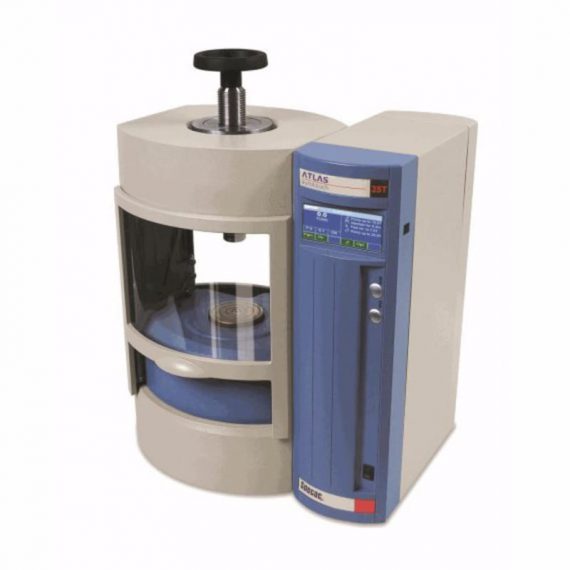 Autotouch Hydraulic Press | FTIR + XRF Automatic Press
Up to 40 Tons Automatic Lab Press
The Specac Atlas™ Autotouch Hydraulic Press is available in 8, 15, 25 and 40 Ton press load configurations. It is very popular with users conducting analysis through Fourier Transform Infrared (FTIR) Spectroscopy and X-Ray Fluorescence (XRF) Spectroscopy. Thus it is known as an FTIR and XRF press.
Easy-to-use automatic hydraulic press
The Autotouch Press includes programmable, power-assisted hydraulics for ease-of-use and reliable repeatability. It also boasts an ergonomic design, small footprint and low noise characteristic. Its simple use makes this hydraulic press ideal for both industrial and laboratory settings.
LED touchscreen
Use the colour LED touchscreen controls to program your load, then anybody can apply the same load program with consistency. Once the pressing load is set, minimal training is required and no load is applied without the safety guard first being lowered, eliminating many safety concerns.
Request a free quote for the Autotouch automatic pellet press
Contact us for a free quote for an Autotouch automatic hydraulic pellet press price.
Autotouch hydraulic press reviews:
Alan Scrooby of Scooby's Laboratory Service says "Robust and reliable, easy to use, consistent reproduction"
Nathan Bunker of Sasol Chemicals (USA) Ltd says "Super easy to use, accurate, great value and reliable"
Li Chen of SCP Science says "The machine is powerful, reliable, robust and only needs minimum maintenance"
Pardeep Sharma of Nestle India Ltd says "Maintenance free operations for years"
Specac History
Research & Industrial Instruments was founded in 1954 by Dr. Tadion to serve the market for sample handling devices. In 1955 he joined forces with Terry Horsley, Harry Merralls as well as Stan Ranson and the company continued growing quickly. It was in 1965 that Bernard Hawker also joined them in their enterprises.
Then, in 1968 Research & Industrial Instruments was acquired by Beckman Instruments, but in 1970, Beckman relocated to Scotland. In January 1971 Bernard Hawker and Stan Ranson started their own company, 'Spectroscopic Accessories', manufacturing graphite disks. It was in March 1971 when Terry Horsley and Harry Merralls were invited to join this new company, to strengthen the optics manufacturing element of the business and Analytical Accessories Ltd was formed. The range of products grew and they soon provided infrared accessories and optical components, as well as mounts, HPLC valves and far infrared instruments.
The name 'SPECAC' originated from a shipping agent deciding that "Spectroscopic Accessories Company" was too long.
By December 1984, Specac had built up a reliable worldwide network and became a member of the Defence and Instrumentation Division of Cambridge Electronics Industries (which later changed its name to Graseby plc).
1990 saw the development of a strategic plan to develop the company into a leading edge FTIR sample handling accessory manufacturer and in 1994 the company relocated into a purpose built building.
In 1997 Specac became part of Smiths Group, one of the UK's largest companies.
Specac Leading products include
Quest ATR spectrometer accessory
Pearl FTIR transmission spectrometer accessory
Autotouch automatic hydraulic press
Manual hydraulic press
Mini-Press handheld hydraulic press
Golden Gate ATR spectrometer accessory (heated, supercritical fluid, low temperature and more options available)
Wire Grid Polarizers
Subscribe
Subscribe to our newsletter now and stay up-to-date with new products collections, the latest and exclusive offers.