Safety Footwear
More information on safety footwear manufacturers >
Currently, there is no single accepted international standard for protective safety footwear. But many countries recognise similar industrial footwear standards that keep workers safe across construction, mining, and other high-risk industries. These include a minimum 200 joules protection, toe guards, and chemical resistance among other key aspects.
So why is safety footwear, safety footwear guide information and safe PPE practice so important for industry sectors? What makes good safety shoes? And what sort of risks do safety boots protect a worker from?
When thinking about safety shoes, you must consider industry safety ratings, determine hazards in the work environment, and ensure all PPE is maintained under acceptable quality control.
Safety footwear is a fundamental element of many workers PPE (Personal Protective Equipment) that is often overlooked and associated with a 'that-should-fit' mentality. There are two main safety features to consider when determining what makes good safety shoes: protection against workplace health and safety risks, and also personal foot health from an orthopaedic perspective.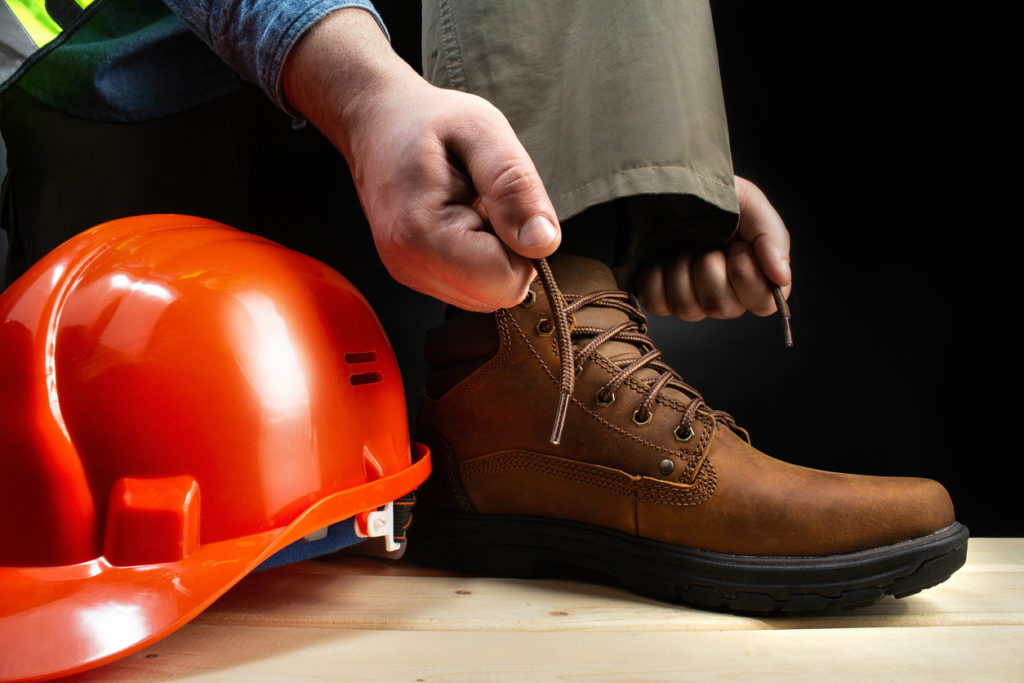 In high-risk working environments, safety footwear must provide an adequate level of protection against falling objects and slippery surfaces, among other risks. Good safety boots and PPE must make sure the worker is comfortable whilst working, as well as offer assurance and protection.
Good footwear also links to good foot health. We forget how important our feet are, only appreciating foot health when it's too late. Most orthopaedic aches and pains can be easily fixed by looking at the footwear being used. Look after workers from top to bottom, starting at the toes, and you'll be amazed at what difference good boots/shoes can make.
With decent safety footwear in place, good foot health will follow. Professional fittings and knowledgeable manufacturing ensure boots and shoes are made to an acceptable standard. Removable insoles, water-resistant panels, and composite or steel toe cap features are just some examples of elements required in industrial and occupational footwear for safe work practice.
Whether you are in mining or construction, environmental monitoring or on the factory floor, safety footwear PPE is a well needed procedure for both health and safety.
Safety Footwear Standards and Ratings
Looking at the standards and ratings is a simple way to measure how 'good' safety footwear is and necessary to meet industry rules and regulations. Footwear test methods are completed in controlled laboratories by manufacturers to guarantee and verify compliance of the boots and safety shoes. While there is not a globally recognised standard, each region does use a similar system that considers the same aspects.
European: EN ISO 20345 (which is also recognised as a British Safety Standard in the United Kingdom)
United States: ASTM
Canada: CSA
Singapore: SS513 (which is almost identical to the EN standard)
These safety standards provide a benchmark for manufacturers to meet in order to produce and sell Personal Protective Equipment (PPE) for occupational protection. All safety footwear is tested against this standard to ensure the quality and safety of the product before going out to sites and workplaces.
Standard EN ISO 20345 Explained
EN ISO 20345 may look complicated but, when broken down, comprises the specific basic requirements needed for footwear to meet industry standards.
EN: the current European standard code, recognised and accepted by BSI (British Standards Institution)
ISO: International Organisation for Standardization defines a minimum for all PPE products
20345: the assigned legislation number for areas of occupational footwear
This code is followed by the year the standard was updated: BS EN ISO 13287:2019 is a currently recognised standard. The latest updates include slip resistance testing methods, along with the 200 joule impact-resistance of EN ISO 20345:2011. Other minimum requirements include toe protection, as a steel cap or other durable materials; 15KN compression test, equivalent to 1.5 tonnes resting on the toe area; and an oil-resistant outer sole.
This all falls in line with the Safety Basic (SB) level of protection and standard for safety footwear protects workers from falling objects, electrical conductivity, and other industrial and occupational hazards.
Additional Codes and Abbreviations
Some footwear have additional safety features that display separate codes and abbreviations along with the industry standard. These are a greater guide to safety shoes:
A Anti-static
AN Ankle Protection
C Conductive
CI Cold Insulation
CR Cut Resistant Upper
E Energy Absorption
FO Fuel/Oil Resistant Outsole
HI Heat Insulation
HRO Outsole is Resistant to Hot Contact
I Electricity Insulated
M Metatarsal Protection
P Penetration Resistance
WR Water Resistance
WRU Water Penetration and Water Absorption Resistant Upper
ESD Electro-Static Discharge Resistant
In addition to SB protection are more specific and specialised ratings that are suitable for a particular role. These "S-Ratings" are a combination of the abbreviations mentioned above and all have SB Safety Basic qualities as a minimum:
SBP: an additional mid-sole penetration protection plate made from steel or composite material to protect the foot.
S1: anti-static, oil-resistant and energy absorption on the heel, often paired with HI features
S1P: same as S1 with additional mid-sole penetration protection for the foot
S2: prevents water penetration with specialised upper materials
S3: same as S2 but with a midsole water penetration resistance as well
S4: same as S1 but also leak-proof, typically safety wellies made from rubber
S5: same as S5 along with a midsole penetration resistance
Along with these additional types of safety-ratings are specific codes for anti-slip attributes. These have all been tested for slip resistance under different conditions:
SRA: tested on a ceramic tile which has been soaked with Sodium Lauryl Sulphate (soap)
SRB: tested on steel plates which have been soaked with Glycerol
SRC: tested and certified against both SRA and SRB conditions
Slipping is one of the highest causes of injuries in the workplace, along with trips and falls. Correct PPE distribution can reduce this risk for workers.
Post BREXIT Safety Standards
It is important to be on the front foot of PPE safety standards. As the United Kingdom leaves the EU, a lot of aspects for some industries will be changing along with Brexit.
BSI and the UK Government will be working closely together to maintain a high standard for workplace safety. Brexit and product safety should be considered and closely monitored over the next months as the transition continues. BSI will continue to influence post-Brexit trade and standards for consumers, environmental and labour.
EN ISO 20345:2011 is currently under review and will be replaced by ISO/DIS 20345 specifications.
Identifying Work Place Risks
The first step in safety boots or industrial footwear selection is to conduct a hazard assessment of the workplace environment. A hazard assessment, or risk assessment, is extremely important for any workplace and should not be overlooked or rushed.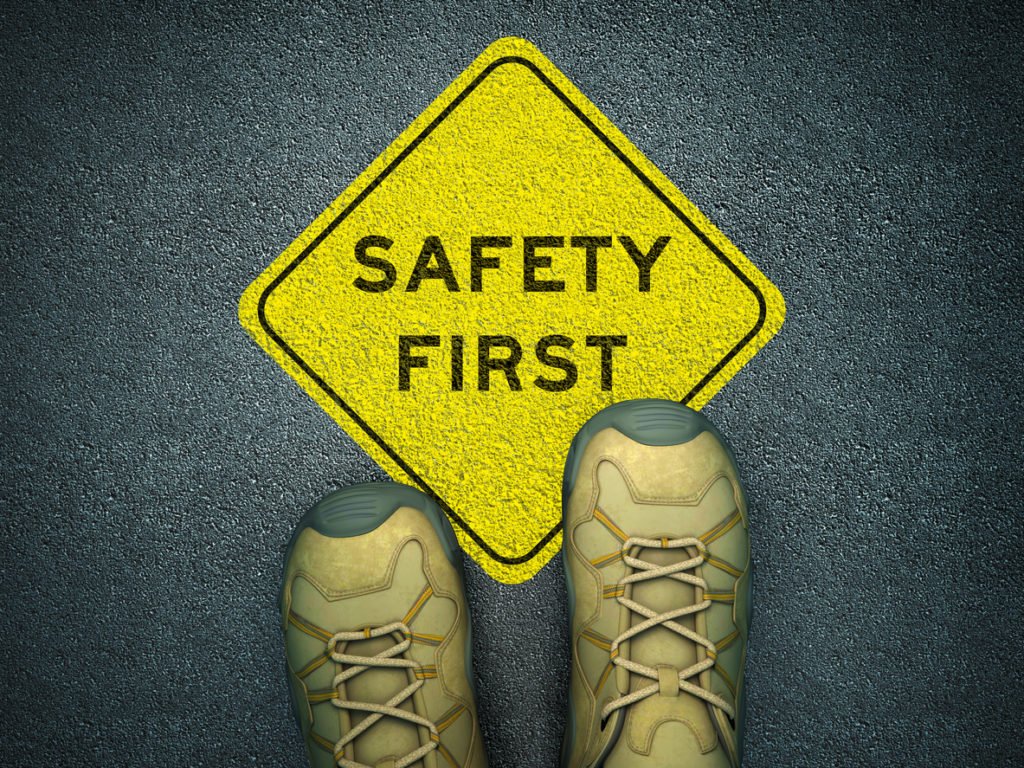 The type of safety shoes you choose will depend on the hazards to which the worker is exposed to.
Sources of risk and hazards to the foot can include, but are not limited to:
Slips, trips, and falls
Specialised equipment and machinery
Electricity static build-up
Chemicals, fuel, oil, or water absorption
Sharp objects puncturing the sole
Impacts resulting in crush injury
Extreme temperatures
Exposure to these hazards without appropriate PPE and safety boots in a work environment can result in significant accidents and injuries. Broken bones, burns, or in extreme cases, amputation and loss of the use of the foot and lower leg are just some of the risks for workers without proper care and attention. There are then long term health conditions and overall foot health to be factored into the decision.
Whether you need oil resistant or slip-resistant outsole features, or heat resistant and energy absorption qualities, the levels of protection required need careful consideration. Assessing what the specific risks are will determine what type of boot or shoe is needed for the job.
Types of Safety Shoes
There is a whole range of safety shoes, safety boots, and safety trainers, meeting an EN ISO 20345 standard, ready for high-risk industries. When picking out safety footwear, you must make sure to consider the following:
Compliance to EN ISO 20345 Standards (or equivalent) as detailed and outlined in the above sections.
Material – leather or synthetic, which is most suitable for the job and environment? The footprint of our footwear is more important than looking good and being comfortable.
Indoor or outdoor use specifications.
Temperature exposure to hot or cold environments and surfaces.
Climate specifics in sun, snow or rainy conditions.
Oil or chemical exposure, among others mentioned above.
Electrical Hazard (EH) and Conductive (CD) Footwear
EH safety trainers and footwear are designed with specialised outer sole layers to provide a level of protection from electrical shock in the workplace. This is for environments where the wearer may accidentally step on a live wire or charged electrical equipment.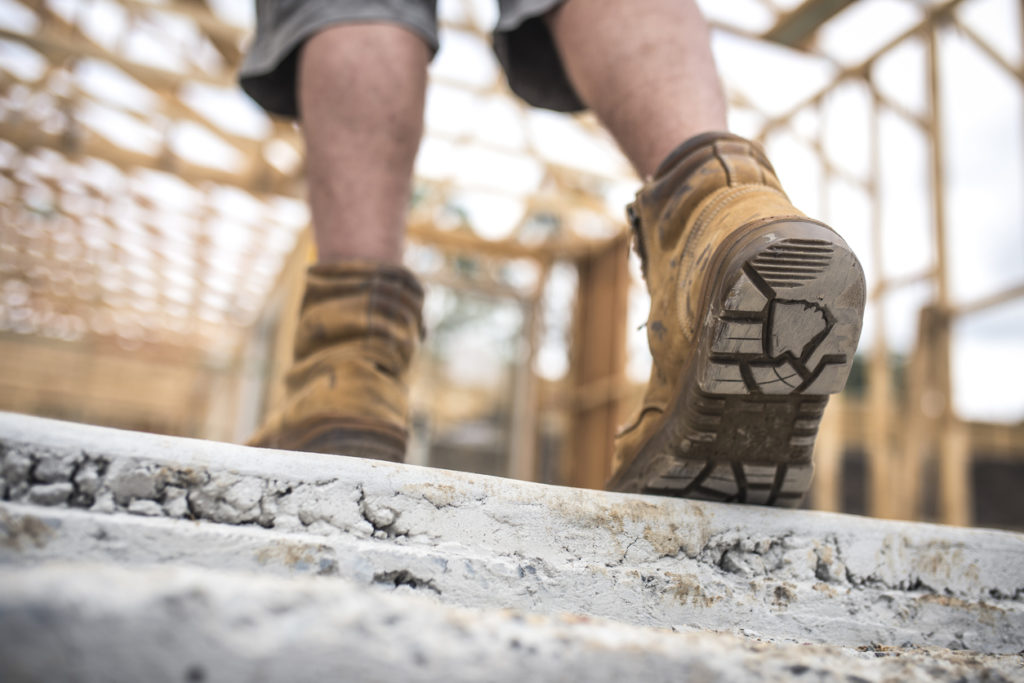 If the work environment will have the worker intentionally come into contact with live electricity, then EH footwear should not be worn but rather CD or static dissipative safety footwear. The anti-static feature allows static electricity to transfer from the wearer to the walking surface. This will protect sensitive electronic devices and equipment from a static electric discharge that could be highly damaging.
Toe Cap Safety Boot
Protective toe caps are fitted to some safety boot designs to provide impact and compression resistance. Traditionally, these have been toe protection steel toe caps, however, there is now a whole range of materials available for toe protection.
Aluminium types are a good lightweight alternative, and, more recently, plastic or composite non-metallic materials have entered the marketplace for industrial boots. Whereas, composite toe cap protection is ideal for those working in environments under extreme temperatures, both hot and cold. The non-metallic material does not conduct heat, cold, or electricity, making them safe and reliable.
Rigger Boots
Often described as the real devoted boot of industrial footwear, a Rigger Boot is a pull-on safety boot for general-purpose work. Rigger Boots were originally standard issue to workers on the offshore oil rigs in the North Sea, which is where the name comes from.
As far as PPE goes, this boot type is considered basic and lacks ankle protection and support. However, they do provide a decent level of cold insulation and protection from water penetration.
Other Footwear Types and Safety Features
Metatarsal Guard: A reinforced layer in the upper portion of the shoe can provide metatarsal protection to the bones by deflecting falling objects and impact energy-absorbing. This feature is commonly used in areas where workers are at a higher risk of objects falling or rolling onto the metatarsal area of the foot.
Puncture Resistant: Midsole penetration resistance with a permanently fixed insole material inside the shoe, stopping penetration of certain objects through the bottom of the sole.
Slip Resistant: A sole designed to provide high friction with the walking surfaces, improving slip resistance and personal safety. Often this is tested on ceramic tile and other surfaces to meet anti-slip footwear safety standards.
Metal Free / Airport Friendly: Shows with zero metal components are ideal for jobs around sensitive metal detectors, such as airport scanning security devices.
Insulated: Cold environments and climates may need additional safety in regards to warmth and comfort. Boot linings from insulation materials help keep worker's feet warm and comfortable.
Waterproof: Boots with a combination of water-resistant/waterproof materials and proper construction helps protect workers from water penetration in environments where excess water is present. Weatherproof footwear hybrids are a rising popular choice among the industries.
Side Zip: A quick-access side zipper can be convenient in some workplaces.
Anti-Microbial: Moisture-wicking linings provide protection against odour, staining and deterioration caused by bacteria, fungus and other microorganisms. This also promotes good foot health in the workforce.
Fitting Safety Boots and Foot Health
Along with meeting safety standards for safety footwear, you must ensure the shoes are a good fit.
Poorly fitted shoes can lead to several health problems including bunions, blisters, back issues, heel pain, calluses, and more. Professional and well fitted boots will avoid injuries.
Toe Area: It needs to be deep enough to allow movement in the toes without being a trip hazard to the worker. With correct padding and shape to the boot, the toe cap should be unnoticed if included.
Heel: Broad base and contour no higher than 4cm.
Insole: Preferably removable to help with maintaining hygiene.
Lining: Breathable, smooth, and lining-free to avoid any irritation.
Sole and Mid Sole: Strong but flexible with adequate shock absorption. The material should be rubber, PU, or PVC for non-slip function.
Outer: Waterproof/water-resistant upper and tough material for cut-resistant quality.
Fastening: Laces, buckles, Velcro – providing a secure fit and further ankle protection. BOA fittings is a specialised technology often found in golf and cycling footwear.
PPE and safety footwear in the workplace is a must and it is important everyone understands. Communicating the demands of the job and the conditions to worker's is an essential step necessary for a safe working environment.
Assessments of risks – investigating and highlighting all hazards involved in a job will avoid injury and accidents.
Choose appropriate safety footwear for the job – after you know the risks, and the working conditions, you can choose the required PPE that will perfectly match the job.
Monitor footwear condition – keeping a close eye on the condition of PPE is just as important as initially introducing it. Keep gear clean and stored out of the elements to prolong its lifespan.
Conduct briefings regularly with workers – help draw attention to changing hazards and educate the importance of personal safety when on site.
Employer Motivation for Safety Shoe Health and Safety
There are several reasons why employers need to keep on top of Health and Safety standards and the safety boots within the workforce.
Legal – as an employer, you must comply with the set standards.
Moral – you have a duty of care to workers to prevent injury and harm.
Financial – compensation, liability claim, fines, loss of labour all have higher costs than issuing safety boots.
FAQ
What is the standard for safety shoes?
Standard EN ISO 20345 determines the basic requirements for commercial safety footwear. Safety boots and shoes that meet the EN ISO 20345 standard protect the user from crushing, bumps, falling objects, sharp and rough surfaces, varying temperatures, and substances, such as fuel, oil, chemicals, and so on. There is no globally accepted set standard for safety footwear, however, EN ISO 20345 is widely recognised across Europe as the European Standard. The United States uses ASTM, Canada uses CSA, and Singapore uses SS513 – all are very similar in basic requirements for commercial use footwear.
It is generally thought that good safety boots should include a solid but flexible sole and mid sole for shock absorption and slip resistance, toe protection in either steel toe caps or a composite toe cap equivalent, and durable outer layer materials for penetration resistance. Anti-static and conductivity qualities are also considered good characteristics for reliable safety footwear. The specific features of the shoes must match the workplace environment as solid PPE.
Can I wear my own safety shoes at work?
The Personal Protective Equipment at Work Regulations 1992 states that if a risk has been identified and cannot be controlled in any other way, protective equipment must be provided by the employer, including footwear. Your own safety shoes will have to meet the set recognised standards for the job environment that you will be working in. There is no pair of safety boots that is suitable for every workplace.
Health and safety law only requires safety footwear to be used when there is a real risk of injury and harm for the employee. Often employers adopt policies requiring the wearing of safety footwear at all times.
Where can you use safety shoes?
Safety shoes can be worn in an assortment of workplaces and spaces. If you are working with heavy objects or around machinery then it is recommended to wear boots with toe cap protection. For outdoors work, insulation and anti-slip qualities will be favourable. No one shoe is suitable for every possible working condition. Some sports and recreational activities also require appropriate footwear to maintain a safe practice.
More information on safety footwear manufacturers >